Your First Romance

Everyone loves a good romance. Here's your chance to create one! To get you started, Your First Romance brings together twenty of your favorite, best-selling romance writers for a helping hand. Each author provides the beginning and ending to an all-new, original romance "mini-novel." But that's all: the rest is up to you. That's right, you complete the stories, in your own words, using your talents and imagination. The events and characters, the love and desire--you decide.
Your First Romance not only includes twenty tantalizing romantic beginnings to get your creative juices flowing, but also gives you biographical insights to today's leading writers of romance, highlighting their secrets of success, work habits and advice. A special Introduction by love's leading lady herself, Kathryn Falk, plus a section on romance publishers, provide useful guidelines for the serious writer. While other books offer a long, textbook maze of information telling you how to do it, Your First Romance advocates a learn-by-doing approach that simply lets you--do it.
What's the latest in the romance genre?... Do-It-Yourself, of course. And you're the next sensation! If it's fun you're after, or perhaps the start of a whole new career, Your First Romance can take you there.
Legacy of Desire- Jennifer Blake
Love's Seeking Heart- Patricia Matthews
Alicia- Jude Deveraux
Passion's Fire- Bertrice Small
Lane End House- Norah Lofts
Love's Persuading- Johanna Lindsey
Conspired Seduction- Alice Morgan
Wings of Love- Patricia Hagan
My Lady Cinderella- Marion Chesney
Shadow of the Past- Barbara Michaels
Boundary Lines- Nora Roberts
Kate of Clyve Shore- Lena Kennedy
Love's Savage Desire- V.C. Andrews
Bold Passion's Price- Barbara Riefe
Yankee Duchess- Virginia Coffman
Love Wears Only One Face- Barbara Bonham
The Panther Feast- Malcolm Macdonald
Disobedient Daughter- Roberta Gellis
Pirate's Prize- Cynthia Wright
They Call Her Dana- Jennifer Wilde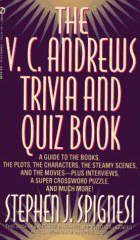 If you're a V. C. Andrews fan, then this trivia and quiz book is certainly a must-have. It contains a lot of information, though it only covers from "Flowers in the Attic" to "Midnight Whispers" (a brief summary of "Darkest Hour" is given. Most of "The V. C. Andrews Trivia and Quiz Book" is devoted to analyzing the fifteen novels with plot summaries, quizzes, and random facts for each one. There's an adequate two-page biography of V. C. Andrews, as well as a "Publishers Weekly" interview of her near the end, and a crossword puzzle
Available in the bookstore
This is the first full-length study of the work of gothic novelist V.C. Andrews. Andrews's ability to create adolescent characters who are caught uncomfortably between childhood and adulthood has won her millions of teenage readers. She focuses on the female adolescent experience and connects with her readers by creating characters who reflect adolescent struggles, confusion, and pain. Huntley shows that the power of Andrews's novels lies in her creation of an enthralling nightmare world, like a fairy tale gone berserk, in which the young heroine struggles with adolescent fears and frustrations in suddenly dangerous and bizarre domestic settings. Huntley locates the novels in the tradition of the female gothic, which Andrews refashioned into her own brand of gothicism: a blend of the gothic with horror fiction and the fairy tale. Huntley's study of Andrews's novels provides close textual analysis. The discussion of each novel is subdivided into sections on plot, character development and point of view, thematic development, generic conventions, and alternative critical perspectives such as feminist and psychological approaches, which offer additional insight and help to explain the attraction of adolescent readers to the Andrews novels. The novels and series covered in this work include Flowers in the Attic, the Dollanganger Chronicles (Petals on the Wind, If There Be Thorns, Seeds of Yesterday), Garden of Shadows, My Sweet Audrina, and the Casteel Story (Heaven, Dark Angel, Fallen Hearts). In addition, Huntley discusses the novels written under the name V. C. Andrews by Andrew Niederman after V. C. Andrews's death in 1986. This study will open up possibilities for discussion about Andrews's work--its popularity, strange durability, and its special appeal to young adult readers. A must for secondary school and public library collections.
Available in the bookstore